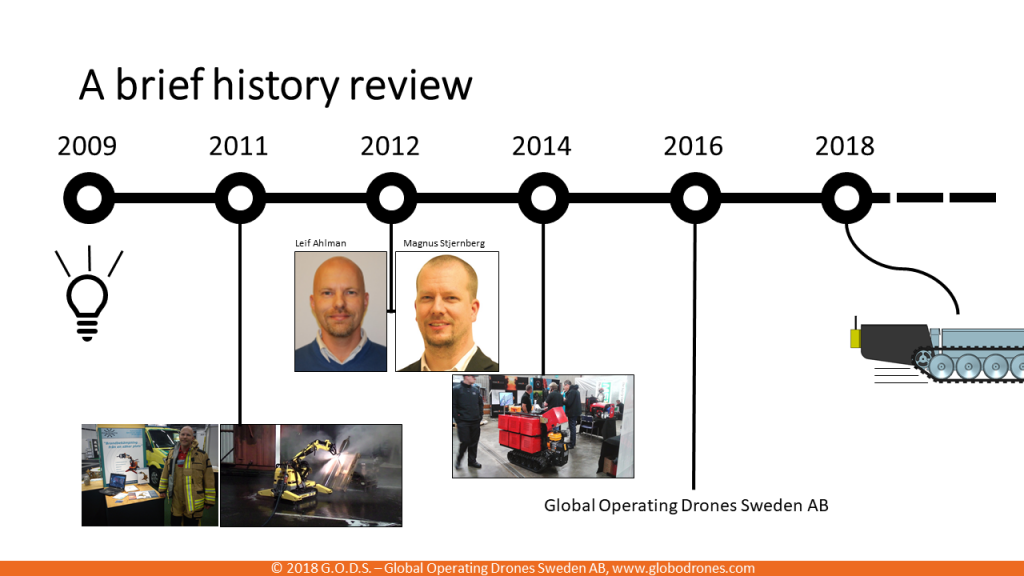 2018
The development of the fire fighting robot continues with the goal of assisting the operator when using the robot through semi-autonomous control.
2016
Stjernberg Automation and Drones Networking together form the company Global Operating Drones Sweden AB with the aim of further developing the fire fighting robot along with service robots.
2014
Drones Networking and Stjernberg Automation together with X-Fire, develop version two of the fire fighting robot. The robot was shown to the public at the Teknikdagarna i Skövde.
2012
Leif Ahlman and Magnus Stjernberg meet and realize quickly that they carry the same thoughts and ideas about robots.
2011
The fire fighting robot FFR Basic is demonstrated at Skadeplats 2011 in Katrineholm, Sweden.
2009
Leif Ahlman at Drones Networking got the idea of combining a demolition robot with an established cutting extinguishing system. This combination made it possible to extinguish fires from a safe distance.